TUESDAY - DAY 4: BLESSED BUT WRECKED
The fourth day of our mission trip was decidedly much better than our third.
I won't bore you with the details of our routine; after breakfast we made our way to El Rincon where we spent the morning doing some home visits. While these home visits weren't as shocking as the previous day's, we were still impacted by what we saw. If anything we went in with clearer heads and we were able to fully experience what God wanted us to.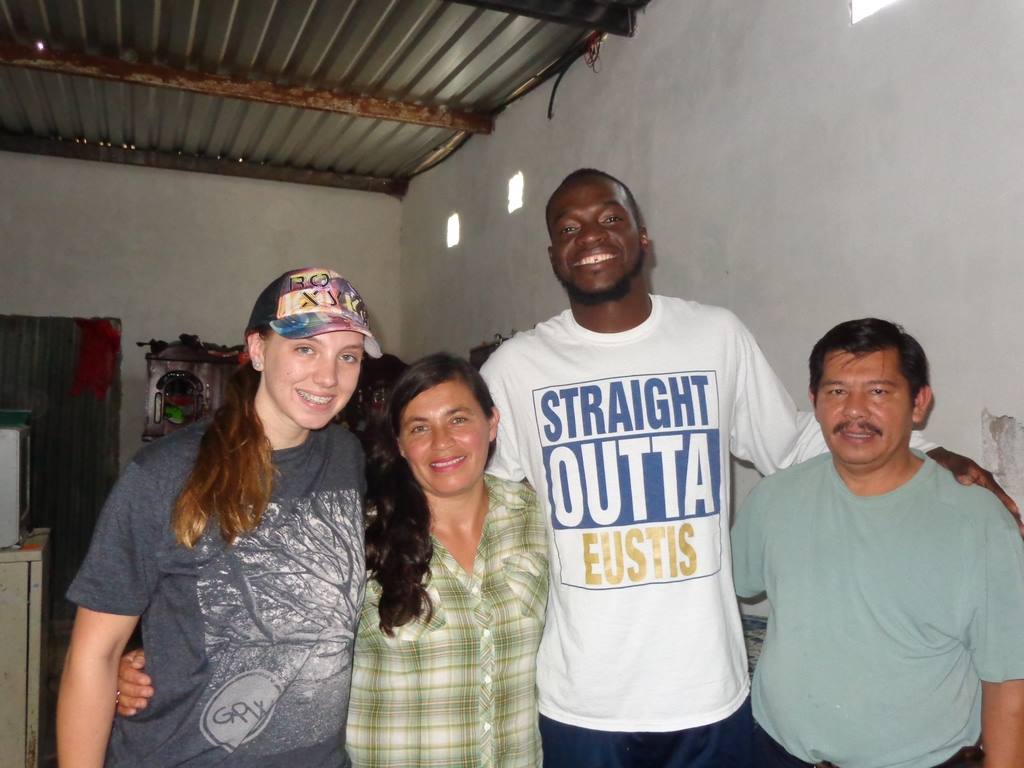 Unlike Tuesday, we were split into four groups. The groups were not evenly divided (some were as small as three people), but that did not hinder us in the least. We each experienced things completely differently based on our predetermined perceptions and how God spoke to us in the moments that we were open to His word.
Our home visits were memorable today because we got to meet some of the children that the members on our team are sponsoring. Part of what Groundwork Guatemala does is sponsorship programs for kids and young adults trying to get their education. The sponsorship program provides the kids and young adults with uniforms and school supplies, which is a requirement to go to school down here in Guatemala. If you lack either a school uniform or any school supplies, you will not get an education. Blake, Stacey, Jen, and Marlin all had the opportunity to meet the children they had decided to sponsor. If the kids were ecstatic, the mothers were over the moon with gratitude and excitement. In the following days, more of us will have the chance to meet our sponsored kids.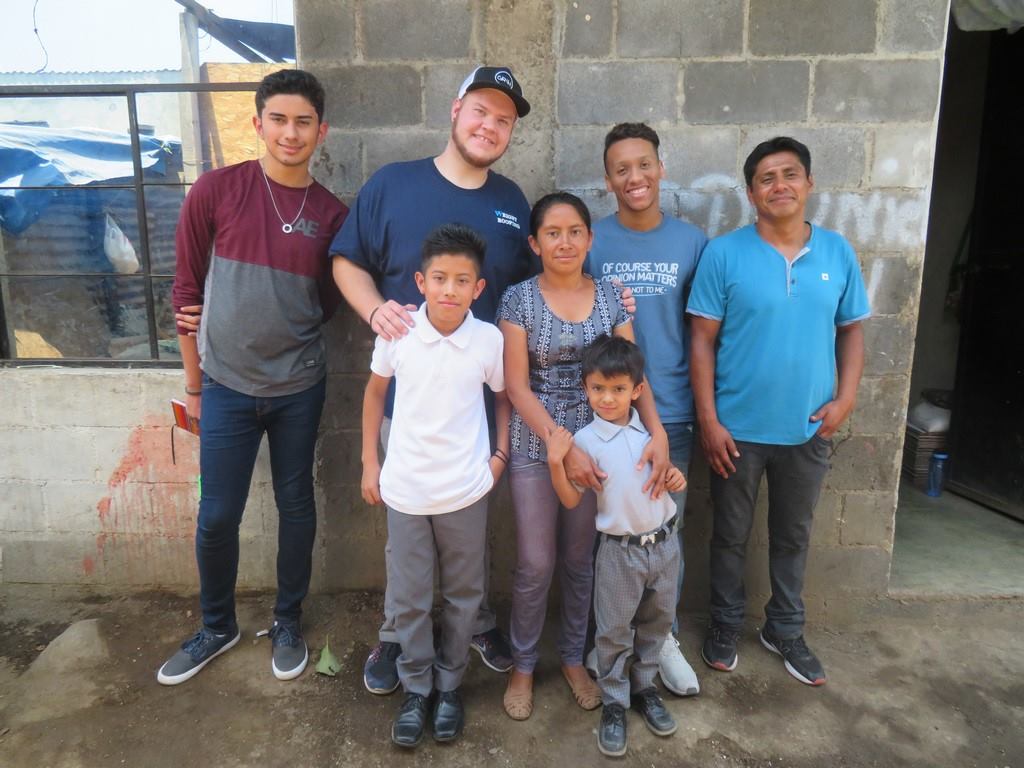 We did not go 'home' after the home visits; we stayed at El Rincon and finally got to meet a few of the children, and by 'a few' I mean 150. Our task was to go over what is called a 'faith lesson' with the kids, which is equivalent to a Camp Cross service, however it was done outside in the heat and not in the air conditioned venues that we are privy to back home. I think it's safe to say that we all have a new appreciation of our church as well as the S'mores, funnily enough. Our team had to lead Spanish worship songs, and let me tell you, it is much harder than it sounds. After we sang for the kids (if you can call it that), we performed a little skit and I'm happy to report that it was received well.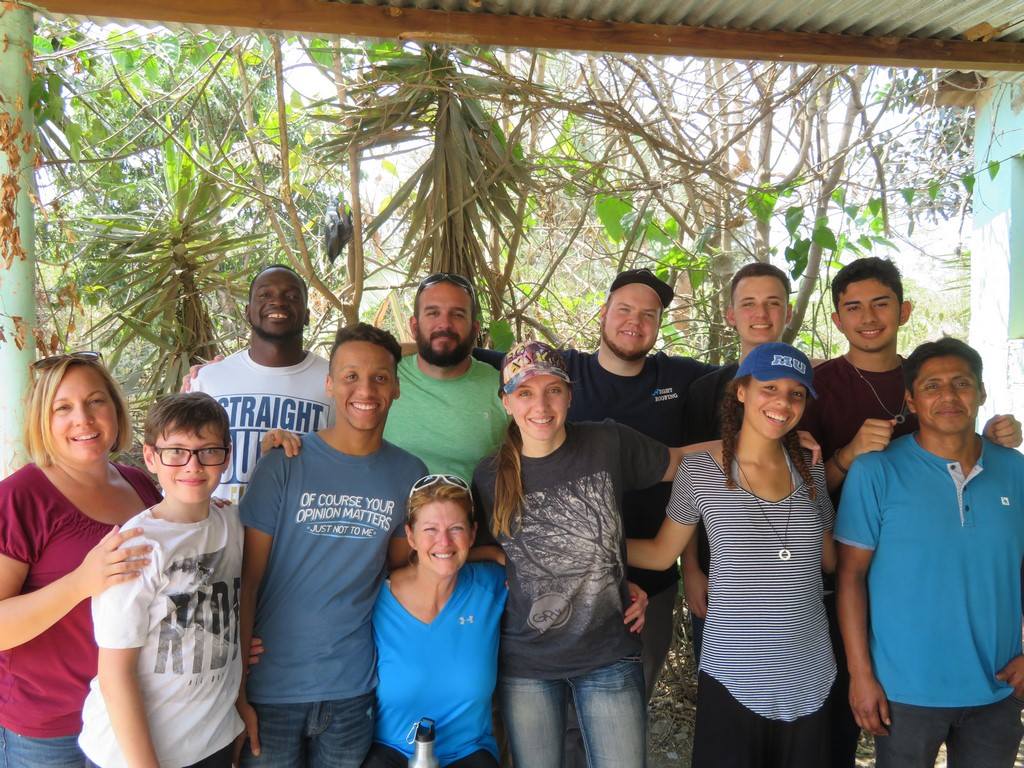 Kevin was kind enough to take over after that, he taught them the faith lesson that he had prepared a few months in advance. As stated by Kevin, it was his greatest achievement and he could not be prouder of what he taught the children. Unfortunately I can neither confirm nor deny his statements; the most Spanish I understand is 'hola,' 'que paso,' and 'bueno.' However, I will inform you that Kevin forgot his notes for the faith lesson, so I'm not too sure about the quality of his presentation. We then distributed the crafts to the children where they had to color in and put together a pinwheel as well as assemble a bracelet.
The scripture we focused on was John 3:16, which was very difficult for us all. None of us had really heard of it before this trip, so it took a lot of preparation on our part. The focal point of our lesson was God's unconditional and irrevocable love.
We not only taught the children, but also the youth. Andres braved the teenagers on his own, and according to him all the ladies were fawning over him. Again, unsure of the credibility of this statement. We seem to have a lot of credibility issues on this trip.
One instance where we had no doubts about the integrity of a story was when John-Michael was essentially hit on by a 15-year-old Guatemalan girl. The girl clearly thought he was cute and was begging to take a picture with him. John-Michael, being the gentleman that he is, graciously obliged. After they took the picture, she wanted to know the age of her potential love interest. As soon as the words, "Yo tengo 12," left John-Michael's lips, the girl's face fell and she was obviously heartbroken. (Any of the other members on the team can completely vouch for John-Michael and this story because most of us were present for it.)
The guilt of this has been with John-Michael for the entirety of the night and is sure to plague him for the rest of the trip. Please keep him and the girl in your prayers for the next few days.
I ask that you continue to pray for us as we go do more home visits in the morning and teach a new set of children.
I'm Amanda Crossman, thanks for stopping by.
CLICK HERE to follow the Groundwork Guatemala Facebook page.
GROW Leader, Amanda Crossman
---
A Note From Blake...
Hey family,
Today was special. It was our first day doing children's programming and although the team was a bit nervous I had full confidence in them.
Even though I have the title of leader slapped on me I can confidently say that each of the GROW students and adult leaders are the one's who have been leading. Amanda and Kiana did a FANTASTIC JOB leading the sing along songs for the kids, which was a blast! Stacy and Jen lead the pack being the team "mothers" and making sure that each person is taken care of before/while we are outside of the mission house. John-Michael took strong initiative by running all of the young children out of energy. Marlin leads us by giving encouragement and having the biggest life-giving smile on the team (this really comes in handy for the early mornings). Andres is leading the youth with Sandra and HE IS THE ONE WHO WROTE THE LESSON PLAN! Joe is leading by his servant heart and willingness to do whatever it takes to get things done. Kevin wrote the lesson plan for the children and is leading it by himself. Lastly Marc is leading by opening up and stepping out of his comfort zone for the Lord.
One quick story I want to share with you is about Marc and what he experienced today by his willingness to step outside of his comfort zone. Because I have been down here once before I knew what to expect during children's programming but the everyone else on the team were walking in blindly (Which is AWESOME for me to watch☺). On Sunday night I had encouraged the team to not let the language barrier be a stumbling block for the relationships that were to come.

As kids were gathering I saw a few jumping rope, others playing soccer, some reading, and then I saw Marc, talking and reading intently with a little girl. I think Marc would admittedly say that his understanding of the words in the book were very few yet, he was listening to every word as if the girl was reading to him in English. The little girl reading Marc the book was just the beginning.
As we continued programming, we sang sing along songs and don't get me wrong, everyone on our team was dancing, singing and having a good time but Marc, man this dude looked like he was having the time of his LIFE! He was dancing, spinning, doing the actions, singing out, it was clear that his child like spirit had surfaced and man was it a joy to see!
Later when we had arrived back to the house I asked Marc what he thought about today and without hesitation he said that it was one of the best days of his life next to marrying his best friend and the day that his beautiful daughter was born.
I tell you that so you can hear the words of somebody else about how although these children have nothing, the radiant joy they give off is infectious and heart melting. I think that if you were to ask any of us, Marc, Stacy, Jen, Kevin, Marlin, Joe, Amanda, Kiana, Andres, John-Michael, or myself we would all agree that today, we saw Jesus in each of these kids. Today gives us all a better understanding of why Jesus had told his disciples in Matthew 19 to "let the children come."
I am so proud of each and every person on this team for walking into the call that God had put in their lives to serve the people of Guatemala this week.

Thanks for your continued prayers.
~ Blake